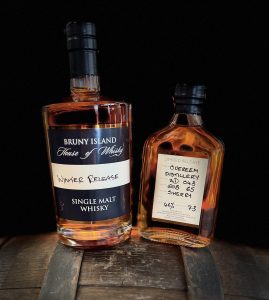 Bruny Island Single Malt Whisky is a label of collaborations between the Bruny Island House of Whisky and various established and award winning Tasmanian whisky distilleries. Each Release is unique and very limited, made in Tasmania from the purest ingredients.
It is a whisky of outstanding quality.
About Our Whisky
Tasmania has gained worldwide recognition for the superior quality of its single malt whiskies. The purity of the water and quality of the Tasmanian-developed and grown Franklin barley combine to produce a whisky worthy of comparison with the world's best.
The Bruny island House of Whisky has a long history of working with local distillers, and building strong bonds of friendship within the spirits industry. It has been these invaluable relationships with some of Tasmania's oldest and most established whisky producers, as well as our cooperation with emerging members of the distilling community, that allow us to collaborate on these exciting and unique expressions of traditional Tasmanian single malt whisky.

Order Our Exclusive Whisky Releases
Order online, by phone 03 6260 6344 or via Contact page.
Bruny Island Single Malt Whisky is released by Tasmanian House of Whisky
ABN 19975116861
Licensee Raven Vass – Licence No 50306