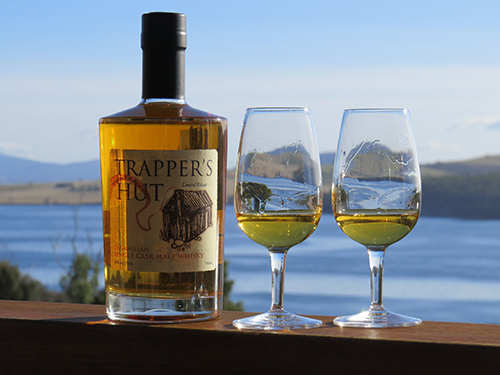 Trapper's Hut is a Limited Release Single Malt Whisky made in Tasmania from the purest ingredients.
It is a whisky of outstanding quality.
The origins of the name Trapper's Hut
Trapper's huts are a lasting reminder of the pioneering spirit and perseverance of earlier generations. They provided protection to the hardy folk who toiled in a sometimes harsh, inhospitable environment during equally trying times. Today, for those with an adventurous spirit and an appreciation of nature's finest, there is a promise of soothing calm and warmth in the wilderness …
About Trapper's Hut
Tasmania has gained worldwide recognition for the superior quality of its single malt whiskies. The purity of the water and quality of the Tasmanian-developed and grown Franklin barley combine to produce a whisky worthy of comparison with the world's best.
Our first barrel (HH348) was released in 2008 with following barrels quickly selling out…with a couple of bottles kept back for tasting at the Bruny Island House of Whisky.
Current Releases available for Online and Cellar Door Sales

Order Trapper's Hut
Order online, by phone 03 6260 6344 or via Contact page.
Sold Out Trapper's Hut releases – available for tasting only
A full collection of all Trapper's Hut releases exclusively available for tasting at the Bruny Island House of Whisky.
ND1176/1207/1209 American Oak cask – 2021 release of 362 bottles, 44%
ND1719-2 American Oak cask with Tawny Port finish – 2021 release of 172 bottles, 46%
ND1720 Tawny Port cask – 2021 release of 174 bottles, 46%
RD063/RD064 UNCHAINED Double Pinot cask – 2020 release 63 bottles, 58%
H17-411 Tawny Port cask, peated – 2021 release of 32 bottles, 46%
ND1177 American Oak cask – 2020 release of 154 bottles, 42.3%
ND1208 American Oak cask – 2020 release of 149 bottles, 45.3%
TH04-JASPER Apera Sherry cask – 2020 release of 35 bottles, 46%
LD678-02 American Oak cask with Tawny Port finish – 2020 release of 100 bottles, 46%
RD603-HOSTAGE Tawny Port cask – 2020 release of 38 bottles, 45%
LD678 American Oak cask – 2019 release of 106 bottles, 46%
XX-039/040 Tawny Port cask – 2019 release of 94 bottles, 46.2%
LD601 American Oak cask – 2018 release of 280 bottles, 45%
XX–041 Apera Sherry cask – 2018 release of 48 bottles, 46.2%
XX–038 Tawny Port cask – 2018 release of 48 bottles, 46.2%
RD077 Tawny Port cask – 2017 release 0f 30 bottles, 46%
LD438 American Oak cask – 2016 release, 45%
HH071 American Oak cask – 2015 release, 45%
HH360 American Oak cask – 2015 release, 45%
HH507 American Oak cask – 2015 release, 45%
HH064 American Oak cask – 2014 release, 45%
HH070 American Oak cask – 2014 release, 45%
HH348 American Oak cask – 2008 release, 45%
Trapper's Hut is released by Tasmanian House of Whisky
ABN 19975116861
Licensee Raven Vass – Licence No 50306