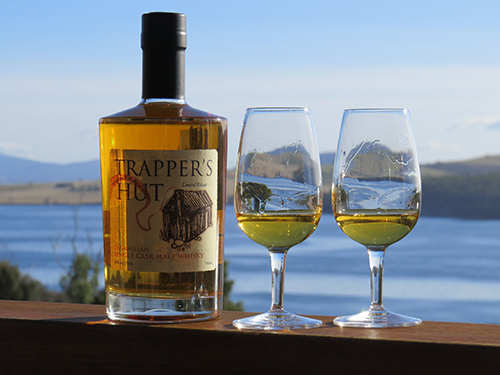 Trapper's Hut is a Single Cask, Single Malt Whisky made in Tasmania from the purest ingredients.
It is a whisky of outstanding quality.
The origins of the name Trapper's Hut
Trapper's huts are a lasting reminder of the pioneering spirit and perseverance of earlier generations. They provided protection to the hardy folk who toiled in a sometimes harsh, inhospitable environment during equally trying times. Today, for those with an adventurous spirit and an appreciation of nature's finest, there is a promise of soothing calm and warmth in the wilderness …
About Trapper's Hut
Tasmania has gained worldwide recognition for the superior quality of its single malt whiskies. The purity of the water and quality of the Tasmanian-developed and grown Franklin barley combine to produce a whisky worthy of comparison with the world's best.
Our first barrel (HH348) was released in 2008 with 11 following barrels all sold out.
Current Available Releases

---
Order Trapper's Hut
Order online, by phone 03 6260 6344 or Contact page.
"Sold Out" Trapper's Hut releases
A full collection of all Trapper's Hut releases exclusively available for tasting at the Bruny Island House of Whisky.
LD601 American Oak Cask – 45% ABV, unpeated, 280 bottle release
XX-039/040 Tawny Port Cask – 46.2% ABV, unpeated, 94 bottle release
HH071, HH360, HH507, HH064, HH070, LD438, RD 077, XX–038, XX–041.
Trapper's Hut is released by Tasmanian House of Whisky
ABN 19975116861
Licensee Raven Vass – Licence No 50306